Posted by EWWines on 1st Jun 2022
We are delighted to have been selected for the wines of Portugal campaign #juneisforindies for 2022 who's aim is to promote Portuguese wines in the independent retail sector.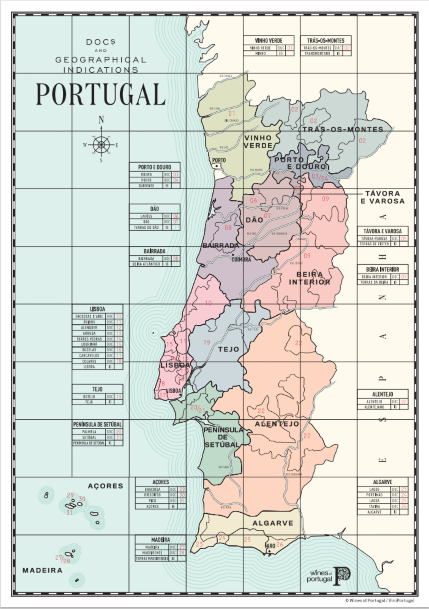 Overview of Portugal
Portugal is a small country in the South West corner of Europe which has a range of climates. The most important cooling influence is the Atlantic Ocean which runs the length of the Country to the West. Therefore, many DOC's (Denominacao de Origem Controlada) have a maritime climate such as Vinho Verde and Lisboa which brings freshness by slowing ripening and aids acidity retention in the grapes allowing for excellent quality and value throughout. However, many of the inland DOC's such as Douro or Alentejo have a hot, dry and continental climate. Altitude can help to mitigate temperatures in some of these areas but the large temperature variations help to explain the huge diversity of wine styles found in Portugal.
The other unique selling point with Portugal is the abundance of varieties. With over 250 native varieties, Portugal has the world's highest density of indigenous grapes per square mile! We urge everyone to explore Portuguese wines as much as possible. You will discover unmatched diversity, value and fantastic drinking wherever you turn. Do not be put off by the barrier of language
We will highlight a few of these regions and most popular native varieties in this blog and wines from our range so you can compare and taste your way across Portugal at your leisure.
Vinho Verde
Starting on Northern Portugal, Vinho Verde literally means "Green Wine". The regions proximity to the Atlantic, the cooling influence means many wines have an appealing crisp freshness and mouth-watering acidity even the most loyal of Marlborough Sauvignon Blanc drinkers would be tempted by! Six native varieties which you've possibly never heard of dominate the regional blend here; Alvarinho, Arinto, Azal, Avesso, Loureiro, and Trajadura. Vinho Verde wines range slightly in style, but most are a touch fizzy, mostly dry but with lower alcohol and offer an abundance of fresh green fruit notes in the glass with some cut grass, a touch of blossom and in ripe examples tropical fruits too.
Try our Avezedo Vinho Verde which offers incredible value and is a blend of Alvarinho and Loureiro with it's intense aromas of fresh citrus fruit, green apples, ripe mango, nectarine and grapefruit zest. Refreshing on the palate with aromatic citrus notes, lively acidity and subtle spritz, delicious and a bargain at £10.50 a bottle. This wine is great with all sea food particularly shellfish or a roast pork joint becoming the apple sauce!
Douro
The Douro region is 3 hours inland from the city of Porto and is a UNESCO World Heritage site. Here find a generally arid continental climate, most famous for its flagship fortified Port wines from household names such as Taylors, Fonseca and Croft. Browse our Port range or read our Port is Not Just for Christmas! blog from March to find out more about the region or the fortified wine style. What type of wine is Douro wine? As a general rule, if the word "Douro" is prominent on the label, you are looking at a dry red wine (and in rarer cases, a dry white wine) made from a blend of grapes often used in Port wine production. More than 80 varieties are permitted in the Douro wines! Of these, the most popular used for the production of red wines are Tinta Roriz, Touriga Francesca, Tinta Barroca, Touriga Nacional and Tinta Cao which all thrive in the regions powerful sunshine. The river offers a cooling influence as can altitude to create a larger diurnal range as can the aspect of the steep terrain (if facing away from the powerful afternoon sunshine) which slows ripening and preserves natural acidity, the hallmarks of quality. Red and black fruits are common like plums and blackberries with herbal notes such as thyme and perfumed character of rose petals or violets, a touch of spice and smooth tannins are standard.
Try our Ramos Pinto Duas Quintas Douro Tinto. Ramos Pintos were the original pioneers of quality winemaking in the Douro. A legacy that has today been adopted across the region. As the name suggests, Duas Quintas comes from two vineyards. The hotter Quinta de Ervamoira produces ripe rich flavoured fruit while the high altitude. Quinta dos Bons Ares adds freshness and balance. Duas Quintas is a blend of Touriga Nacional (51%), Touriga Franca (26%) and traditional Douro grape varieties (23%) (such as Tinta Roriz, Tinta da Barca, Tinta Barroca). All harvested by hand, by individual plot, at optimal ripeness before being taken to the winery. Total quality focus, this is a fantastic wine and great value at £14. The 2019 vintage was hot in the Douro, but this wine still has freshness and elegance combined with depth and concentration. Great with grilled meats or lightly chilled in the sunshine with a barbeque and friends.
Lisboa
Considered by Wine Enthusiast as one of the "10 Best Wine Travel Destinations of 2019", a coastal region around the capital city of Lisbon with the best vineyards located to the North and West of the capital. It is a long thin region with a large coastal influence often compared to coastal Chile for its fresh wines with great value and quality for consumers. Again, native varieties are key with over 30 permitted in the DOC of Lisboa. Now international varieties too such as Tempranillo and Cabernet Sauvignon being planted and utilised for their character and quality often along with native varietals in a blend that consumers can recognise.
Try either our Julio Floristo Tinto or Julio Floristo Branco. Both are dangerously easy to drink, great fun and cracking value at £9.50 each. The Branco blends Fernao Pires and Albillo de Albacete with the international Moscato. This is an unoaked and fermented in steel to preserve the primary aromatics. FInd tropical fruits and citrus with a touch of passion-fruit. Pairs with grilled fish, seafood, pasta and white meats, but also ideal served as an aperitif in the Cornish sun! The Tinto is a blend of Tinta Roriz / Tempranillo and Castelao. It too is fun, fresh and fruity and pair well with grilled red meats, cold cuts or a hunk of vintage Cheddar.
Look out for the hashtags: #JuneIsforIndies and #WinesofPortugalUK.