Posted by EWWines on 1st Apr 2022
This blog will guide you across a few of the regions of Northern Italy from the Dolomites south to the Mediterranean and highlight for you some of our hand selected range. These fantastic and diverse regions are home to some of the best wines of the world and food bursting with unmistakeable character and flavours, and plenty of warm sunshine too.
Alto Adige
This tiny region offers the perfect combination of Mediterranean climate with a landscape shaped by the mountains (Italian Alps and Dolomites) offering altitude for acidity retention and cooling evening breezes make this a perfect region for viticulture. The terroirs are extremely varied and each variety has its perfect spot and a chance to make unique varietal expressions. Dominated by white varietals (almost 65% of total production) there are many tasty options from native such as Pinot Grigio and Gewurztraminer to International varieties such as Chardonnay and Sauvignon Blanc.
Try our Tiefenbrunner Pinot Grigio - founded in 1848, there is plenty of generational experience in this family-owned winery! The main vineyard is almost 1000m above sea level making it one of Europe's highest vineyards and faces south into the sunshine allowing for perfect ripening of the fruit.
Veneto
By contrast to the Alto Adige, Veneto is a vast region which stretches from the Dolomites to the Adriatic and west to the shores of Lake Guarda. Home to some of the most historic regions of Italy (as shown on the below map from the society of wine educators) with terrior and winemakers capable of making outstanding quality wines offering the consumer real value when compared to other top wines of the world.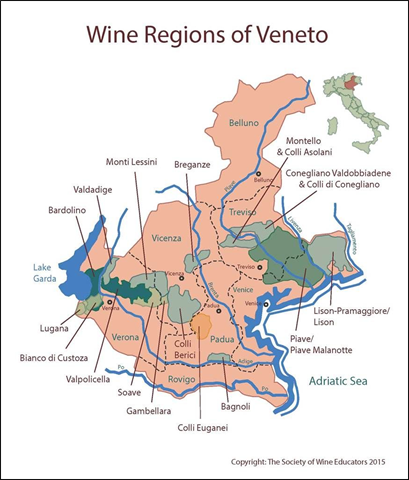 One of the region's most prestigious wines is Amarone della Valpolicella. Amarone translates as the bitterThe Amarone process is complicated and costly and was developed by winemakers searching for a process to add body, complexity and alcohol to their wines. Native grape varieties permitted are Corvina, Corvinone, Rondinella, Oseleta and Moninala. A blend led with Corvina is typical and required by law for DOC Valpolicella to be between 45 – 95% of the final blend offering red cherry fruits and Rondinella must be between 5 and 20% and brings bright floral notes. Grapes are hand harvested in whole bunches before being dried for up to 3 months (Appassimento method). During this process the fruit loses up to 35% of their juice which concentrates the sugars, fruit flavours and tannins. Once this process completes the dried grapes are gently pressed and the must is fermented to dry. The fruits' high sugar content after the drying process results in high abv (often 15 to 16%) before being matured in botti (traditional large casks) and modern oak barrels of mixed origin for a minimum of 2 years to allow the complex and concentrated primary characters, tannic structure to integrate with the secondary flavours of the casks before release. Try our Tenuta Musella Amarone della Valpolicella which is a real blockbuster example.
The region by contrast is also home to Prosecco DOC and DOCG's. For any occasion, Prosecco is sure to be a hit and is very popular in the UK. Refreshingly light and full of citrus, bright orchard fruits, some stone fruit flavours and a floral twist all coming from the Glera grape variety and the delicate bubbles from the tank method of production are a winning formula. Try our Fiori di Campo Prosecco Spumante for a real treat that works well as an aperitif or with a range of lighter seafood, crudites or cold cuts. The label for this wine has been exclusively designed by Yvonne Coomber the artist whose work is well sought-after for her beautiful paintings of wild flowers and nature.
Piedmonte
Piedmont "at the foot of the mountains" is located in North West Italy between the Alps and the Mediterranean and boasts 18 DOCG's in total including Barolo and Barbaresco made with Nebbiolo. 90% of total production is red, including additional varieties such as Dolcetto and Barbera. Our hand selected range of Piedmonte red's offers great value and we are excited to share includes the newly listed wines from Roagna. The Roagna story started in the late 1800s when Luca Roagna's great grandfathers were part of a small group of pioneers that started making Barbaresco as we know it today. Luca, currently representing the 5th generation of winemakers, is taking the estate from strength to strength. He works with the utmost respect for his land: old vines, massale selection, and promotion of biodiversity are all at the core of his approach in the vineyards. In the winery, long aging, wild yeast, and long macerations assure that the essence of his terroir is expressed in the bottle.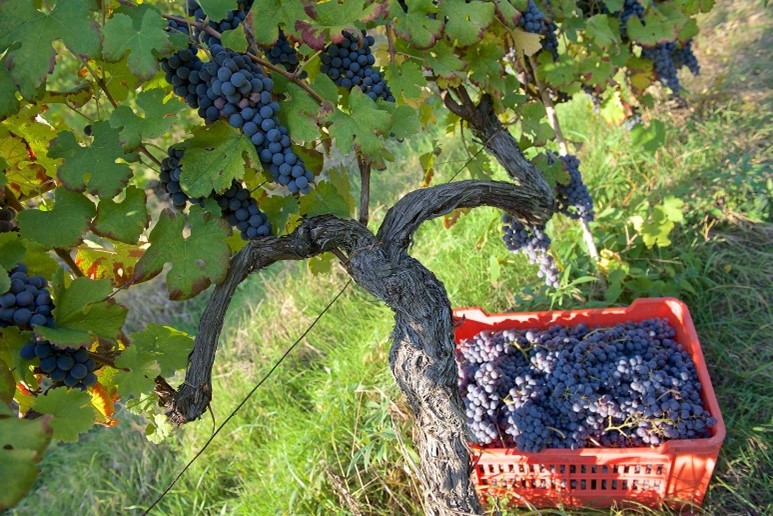 For white Cortese and the DOCG Gavi is possible most famous for their lip-smacking acidity with Moscato d'Asti adding a sparkle to the region! Try our Ca' d'Gal, Moscato d'Asti 'Lumine' DOCG: we love this wine as a fun aperitif, with strawberries as summer kicks in and also with fruit pastries or the traditional classic pairing with torta di nocciole (hazelnut tort).