Posted by EWWines on 28th Sep 2021
We love Rioja at EWWines as does the whole of the UK; our thirsty island is Rioja's biggest export market! In 2019 the UK accounted for a third of all Rioja wine exported, or just over 29 million litres. October 2021 will see EWWines celebrate all things Rioja for Rioja Wine month and we hope to do our bit to ensure 2021 is another success for Rioja in the UK! We couldn't be prouder of our hand selected Rioja range (available here) which we will shine a spotlight on this October at EWWines and in this blog with some an overview of Rioja too.
Rioja regional overview
Rioja is in Northwest Spain sandwiched between the Atlantic Ocean and the Mediterranean Sea, is Spain's second smallest wine region by area, oldest Designation of Origin (1925) and premier wine region by value.
Rioja meanders along the river Ebro valley between two mountain ranges; the influence of the warm Spanish central massif is blocked by the Demanda Mountain range to the South. To the North, the Sierra Cantabria shield Rioja from the cold Northerly Atlantic winds. Warm winds blow from the East up the river from the Mediterranean basin having a positive impact on fruit quality and ripeness.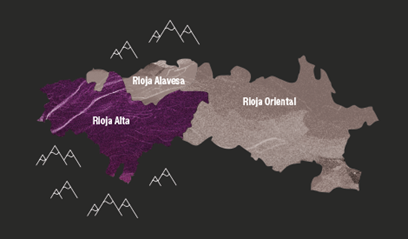 Rioja is divided into three sub zones all offering something slightly different. The Rioja Alta to the Northwest has the most Atlantic affected climate and beneficial altitude to aid complexity by slowing ripening and important acidity retention. In Alta some of the highest quality Bodegas can be found including a real favourite from Bodegas Roda S.A. This wine oozes elegance and bright cherries and red fruits. Being Reserva, a well-managed splash of French oak (40% new).
The Rioja Alevese is the Basque region where you can find small scale vineyards on terraced and rolling hillsides of calcious clay and is the smallest of the sub zones.
Rioja Oriental (formerly Rioja Baja) is the largest area to the Southeast and is the warmest, driest, flattest and most fertile sub zone mostly to the South of the Ebro River. Oriental favours Grenache which thrives in the heat and brings rich fruit to the region.
Rioja styles
Rioja has an unquestionable affiliation with oak, but the region produces a fantastic diversity of wine styles, for every occasion from the fresh and fruit forward easy drinking styles to complex age worthy full-bodied styles. Rioja has strict standards for grape growing and wine making to protect the quality of the region and the first region in the world to have a guarantee label which guarantees authenticity and the bottle seal, making Rioja impossible to forge. If you are interested the full classification is available from the Rioja Wine to show you what to look for on the back of a bottle.
Style is determined by origin (sub zones), fruit quality and also ageing process. Rioja's ageing process is split into four categories Generic, Crianza, Reserve and Gran Reserve. To be issued, the wine must meet the strict typicity and quality requirements of the Rioja control board. Oak plays a large role in the ageing process which helps the wine undergo evolution in cask and develop new aromas and flavours over time such as vanilla, cloves and baking spices.
The most common styles and popular Rioja wines blend components from different zones and plots to make their desired style such as our delicious and great value Navajas Rioja which is medium bodied with silky red plums and cherries and highlights how much value can be found in Rioja still. However there is also a spotlight now shining on specific single plot production and these are some of the outstanding gems of the wine world such as Marques de Murrieta's Cappellania this gastronomically versatile white Rioja is made for smoked fish, mushroom risotto, chicken with velouté, or even able to handle red meats due to complex layers and bold flavours of the wine due to almost 80 year old Viura wines at 480m altitude in Rioja Alta and 16 months in new French oak adding layers of vanilla, smoke and bronze fennel.
Sparkling Rioja is often overlooked but the Rioja control board approved the category in 2017 and the first wines were released to the UK market in 2019, so a shiny new, exciting niche style in Rioja. The wines must be made in the Traditional method and there are classifications here too Generic, Reserva and Grand Anada with 15 month bottle fermentation, 24 months and 36 months respectively (sounds familiar dare I say?). We list a limited release Sparkling Rioja from Fincas de Azabache which is absolutely delightful! This wine was Tim Atkins sparkling discovery of the year in his 2021 Rioja report and is very highly rated by all who try, we have a limited number in-store available now.