Posted by EWWines on 28th Sep 2023
In the world of wines, there exists a realm of flavours and hues beyond the traditional red and white wines we are accustom to. One such intriguing and unconventional member of the wine world is orange wine which we will explore in this blog episode.
No, orange wine is not a wine made by fermenting oranges! But orange wine can offer an entirely different and captivating experience to your palate. You will find out all about this popular style of wine - are orange wines the new rose? a passing fad? or a seriously drinkable wine style?! Read on to find out more...
What is Orange Wine?
Orange wine, also known as skin contact wine or amber wine, is essentially a white wine made like a red wine. Confused? Don't be, we will break this down.
White grapes are typically used to make white wine. To create an orange wine the winemaker doesn't immediately press the juice to separate the skins and seeds from the juice as is customary for most white wine production. Instead, the grapes are allowed to macerate with their skins for an extended period, sometimes months. The skin of grapes gives colour and tannins. Necessary in red wine but not necessarily welcomed in most white wines. This prolonged skin contact gives the wine its distinct orange, amber or copper hue and imparts unique characters and grippy textures. We often describe this grippy texture as pithy character for the presence of tannins from the skins.
We recommend watching the following video by Konstantin Baum - Master of Wine to start your journey into Orange Wines.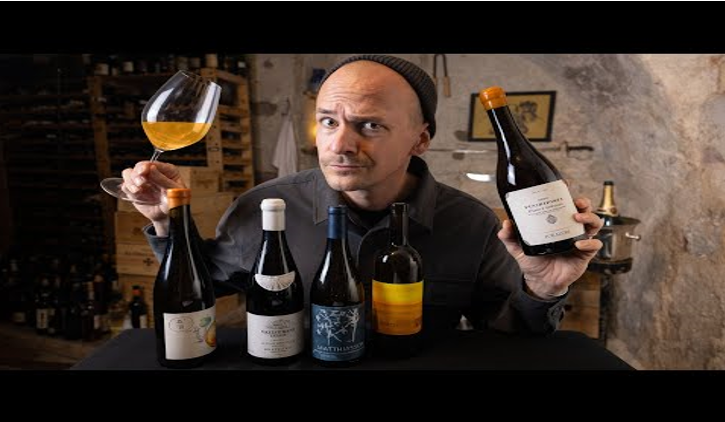 History of Orange Wine
While this might seem like a modern fad, this method of skin contact wines is a natural and ancient method thought to date back thousands of years, found in regions of Eastern Europe close to the current-day Georgia (not the US state!). Here whole bunches were traditionally left in contact with the juice over winter in large clay vessels known as qvevri, ("Kev-ree"). This skin contact and wine making process helped to preserve the wines and minimise the risk of bacterial spoilage. To maintain a constant lower temperature for the fermentation, qvevri are buried underground which preserves more of the delicate aromatic notes of the grapes which often adds to their charm and fruit profiles.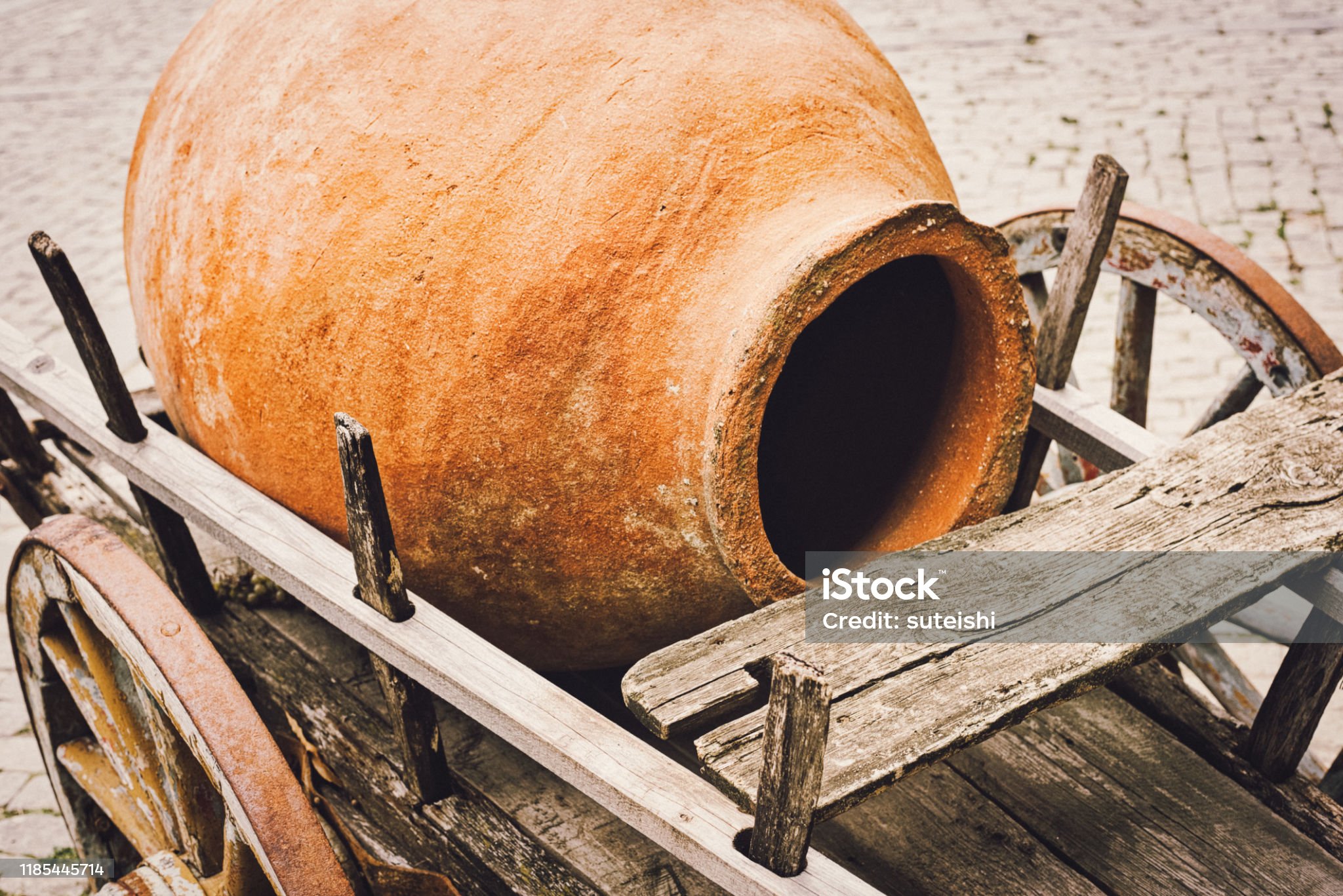 iStock via Getty Images.
Typical Profile
Now let's talk the exciting part, aromas and tastes! Orange wine is a fascinating departure from the ordinary. The aromas and flavours found range from the fruity and floral to the nutty, spicy and even funky. You might encounter notes of apricots, pineapple, jackfruit, yellow apple skin, chamomile, orange blossom or bronze fennel and butternut squash and even cashews. Savoury flavours are commonplace and brilliant! Dried fruit flavours are also common with dried herbs, sometimes linseed oil develops with bottle maturity. The funk can be anything from slight bret or farmyard which can elevate the fruit components of the wine and add complexity to full on funky which can mask all the interesting notes we just described. These notes are often accompanied by a welcome burst of tannin. The extended skin contact during winemaking contributes this delightful, almost grippy texture on the palate adding more body or weight, which rewards the adventurous drinker with incredibly versatile, fun and food friendly wines.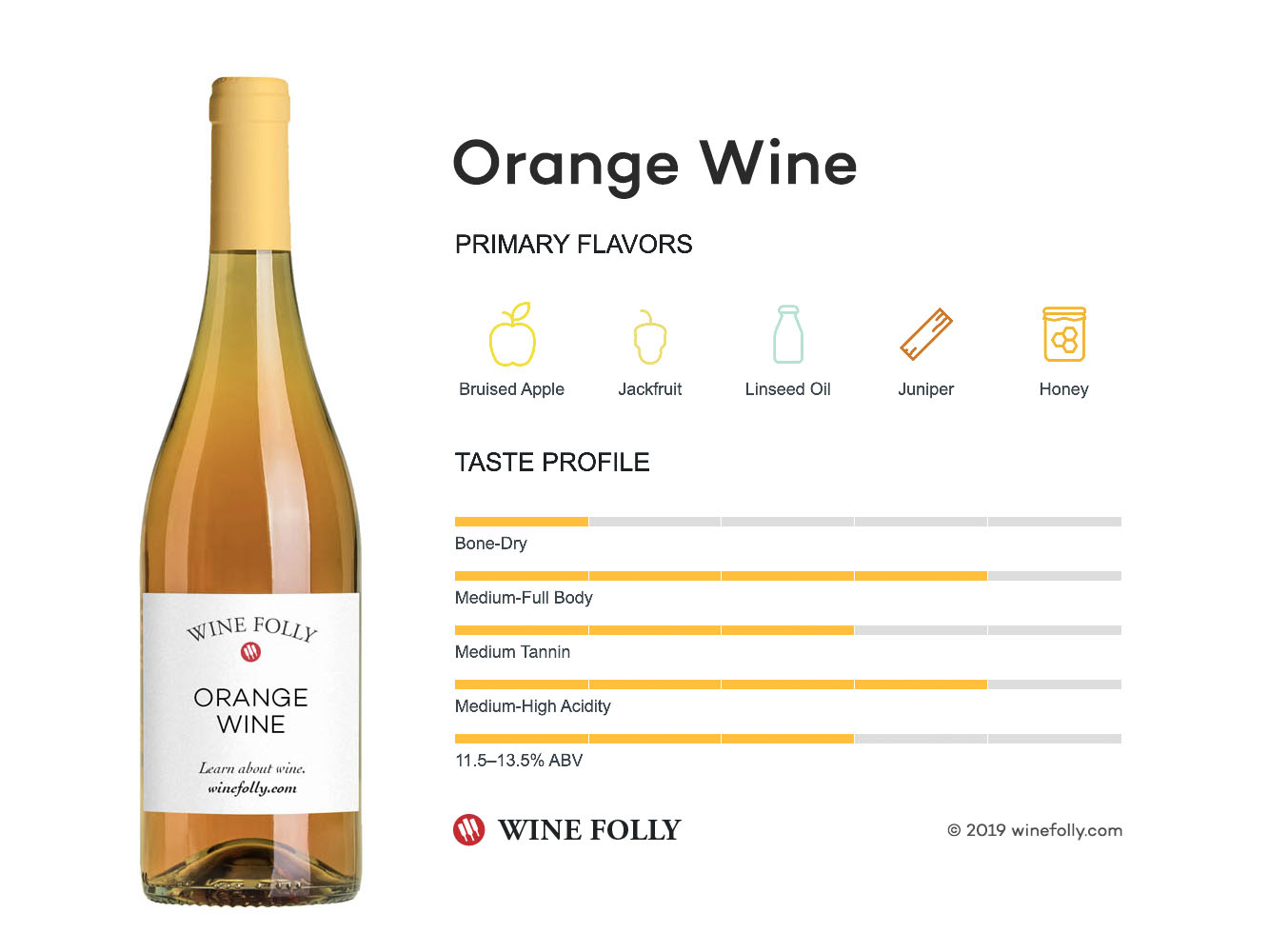 Food Pairing
Bringing us nicely to the most joyful part of Orange Wine is its versatility when it comes to food pairings. This is due to the diverse nature of the flavour profiles we highlighted above of orange wine and its structural complexity. Orange wines pair widely with a range of dishes, the options are almost endless for both complementary and congruent wine pairings. Try with a charcuterie board, butternut squash and sage risotto, a Moroccan tagine, any sticky BBQ'd grilled ribs, spicy curry dishes, tuna niçoise salad. In fact, to be perfectly honest, unless you go to the fully funky end of the spectrum where the wines become very questionable as to their drinkability most orange wines pair exceptionally well with most foods. We would even go as far as saying possibly the perfect bottle for a table of four eating a range of main courses! Whether you are a seasoned wine pro or a curious newcomer, we whole heartedly encourage you to explore orange wine. They defy tradition and will hopefully ignite your senses!
Our Orange Wines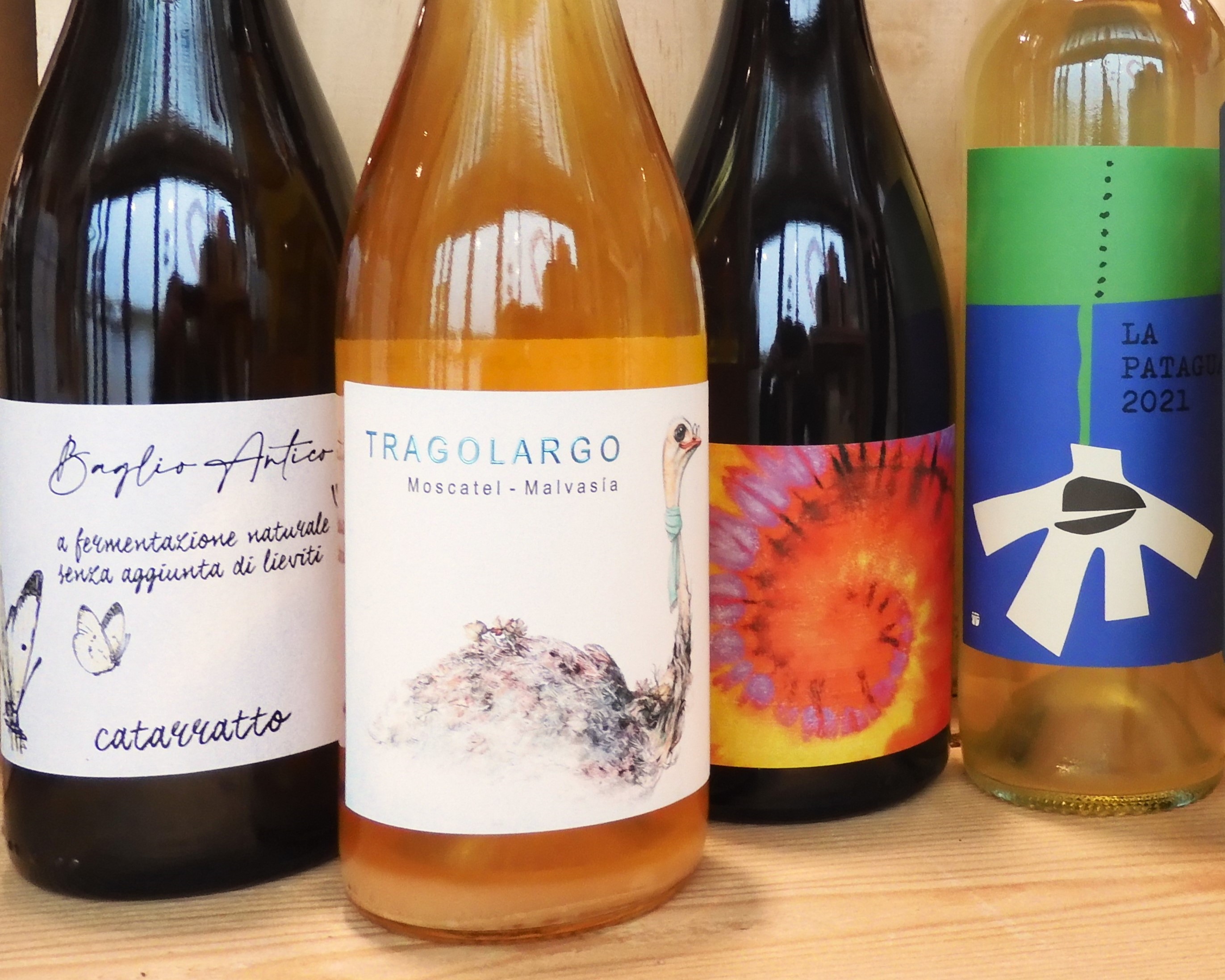 Has this wet your whistle? Then why not explore our range of Orange Wines - we have lots to try and explore and will highlight a few of our favourites pictured above for you to try.
Casa Balaguer-Vinessens, Tragolargo Moscatel Malvasia - Orange Wine
TheTragolargo Moscatel Malvasia, by garage winery Finca Casa Balaguer, is a blend of Moscatel and Malvasía, certified organic. This wine comes from the region of Alicante, Spain.
The appearance of Tragolargo Blanco is cloudy because it is unfiltered with no fining. colour is amber. The aromas are amazing and really show the best of these two grape varieties. Notes of chamomile, apricot, melon, nectarine. Very fruity, a little floral, even slightly funky (but in the complex but enhancing side of funky!) Flavours that equally reveal themselves on the palate to, but the wine is dry, delicious tannins and rapier acidity, making this a fun, tasty and fantastic value!! Excellent with a BBQ or butternut squash risotto.
This is a great place to start your Orange wine adventure!! This Sicilian Orange wine offers all of the characteristics of natural, orange wine and great value once again. Made by the excellent people at Ciello in Alcamo, Sicily, the Organic Cataratto grapes spend a few weeks macerating with the skins during the wild yeast fermentation and the wine is bottled with low sulphur and no filtration.
Rich, pithy fruit character, yellow apple skin, savoury herbs, ginger, fennel and much more to be found here. Try with anything spicy like a Moroccan tagine or the traditional Sicilian Pasta con le Sarde (Sardines).
Jean Marc Lafage, Taronja de Gris Orange Wine
Hailing from the heart of the Roussillon in the South of France. Jean-Marc Lafage has been the most awarded independent French vintner in the last 10 years at the prestigious Concours General Agricole de Paris!! This wine is 100% Grenache Gris. Its pink skins give a pink tinge to the amber hue and fresh but peppery tannins.
Flavours and aromas of orange peel, white pepper, ginger, melon and waxy lemon peel. This is a great accompaniment to many cheeses and to powerfully flavoured rich cold meats, like smoked duck's breast and charcuterie.